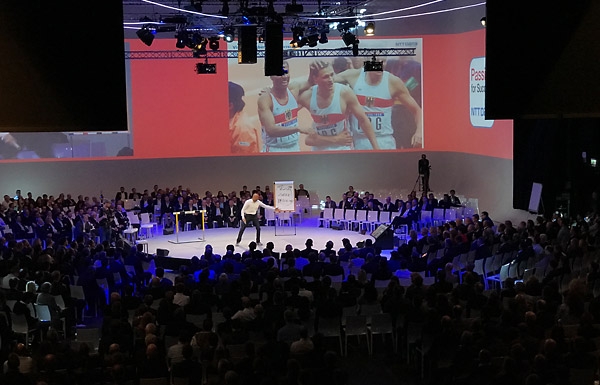 Speeches

overview
What do you need in an event for employees or customers? It has to be informative. It has to be entertaining. Most importantly, though, it has to inspire, so that the event in question has a palpab-le and lasting effect. This effect is guaranteed if you invite Edgar Itt to be a speaker at your event. With his speech "Success Faith, Passion, Vision – overcome the hurdles of life" and his emotional but also humorous way of communicating, he has already inspired more than 200,000 people.
Whether you book Edgar Itt as one of several speakers for the same conference or as the inspiring exclamation point at an event for employees or customers, he will always enrich your event. The Olympic fire that was burning in him when he won an Olympic medal with the 4 x 400 relay team is still present in his speeches. Get inspired!


Success Faith, Passion, Vision
overcome the hurdles of life
Hurdles are not just limited to sports venues. Former pro athlete Edgar Itt knows that all too well, having faced them both in his active sports career and his personal life. What makes the difference between success and failure is your "personal, authentic swing", as he calls it. The answer to the question how you find the right technique to overcome obstacles – from formulating the correct vision to focusing on your goals – is at the core of this humorous and very emotional speech.
The engaging speech allows the audience to mentally become part of the world of elite athletes from the very first minute. And it creates a bridge to their own lives, motivating them to utilise their individual potential. With the lessons he learned on his own way to the top, as well as with examp-les from other fields, Edgar Itt demonstrates how you can find inspiration in any situation and how you turn that inspiration into real motivation. It is easy to identify with the speech – no matter the industry you work in. And in the end, every audience member will walk away from the speech with a lasting inspiration that can help them find their personal swing.